An Iraqi Army soldier covers his face to maintain anonymity within his community during routine foot patrols in New Baqubah, Iraq. 2007 © Stacy Pearsall
A Marine CH-53E helicopter from the 464th Alpha Company blows sand and rocks as it takes off in Harar, Ethiopia. 2005. © Stacy L. Pearsall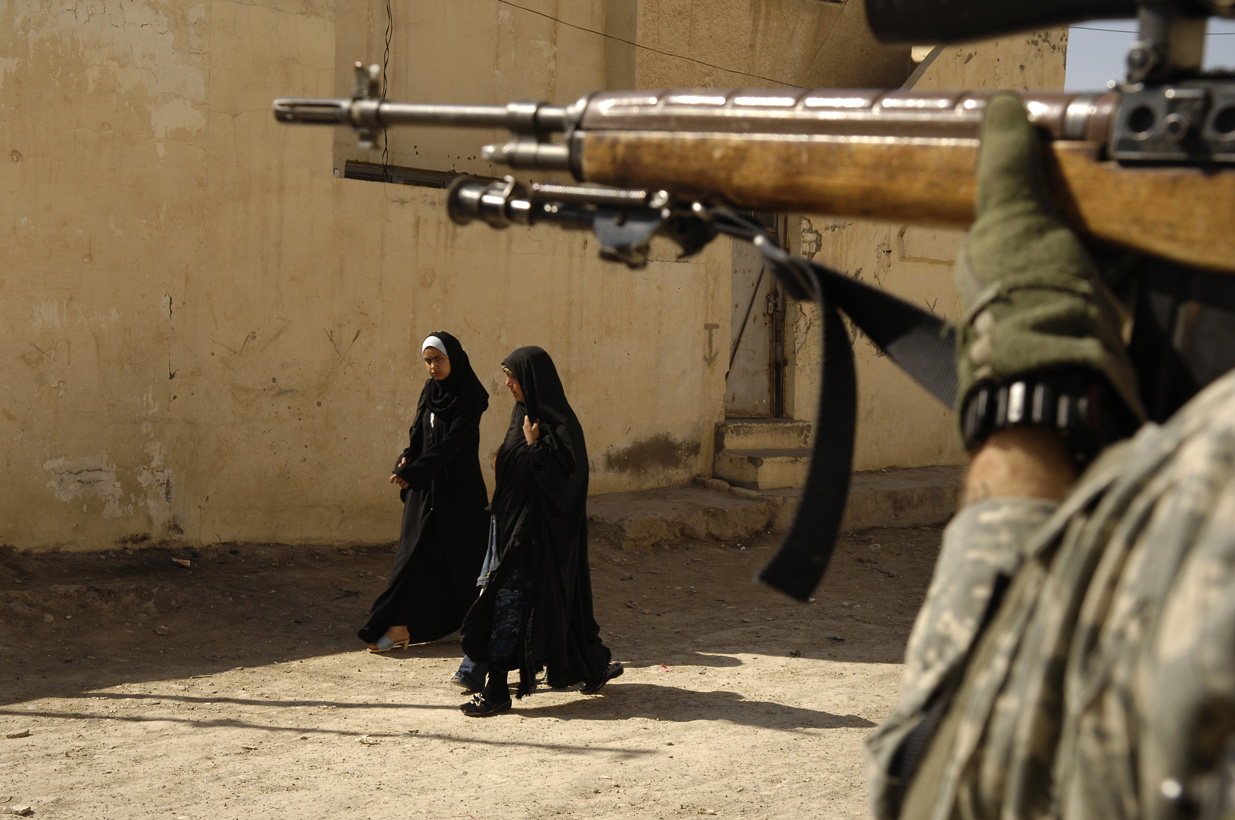 After hearing enemy gun fire, U.S. Army Spec. Matthew Andrews uses his scope to look for anti-Iraqi forces in the distance in Old Baqubah, Iraq. 2007 © Stacy L. Pearsall
An Iraqi army soldier tries to kick open a gate during a cordon and search for insurgence and weapons caches in Chubinait, Iraq. 2007 © Stacy L. Pearsall
U.S. Army Pvt. 1st Class David Banks is eyed by locals as he walks past a barber shop during a cordon and search in Old Baqubah, Iraq. 2007 © Stacy L. Pearsall
After shooting a fleeing insurgent's vehicle, members of the Iraqi army, 4th Battalion, 2nd Brigade, 5th Division, provide medical assistance to the car's occupants during an operation in Old Baqubah, Iraq. 2007 © Stacy L. Pearsall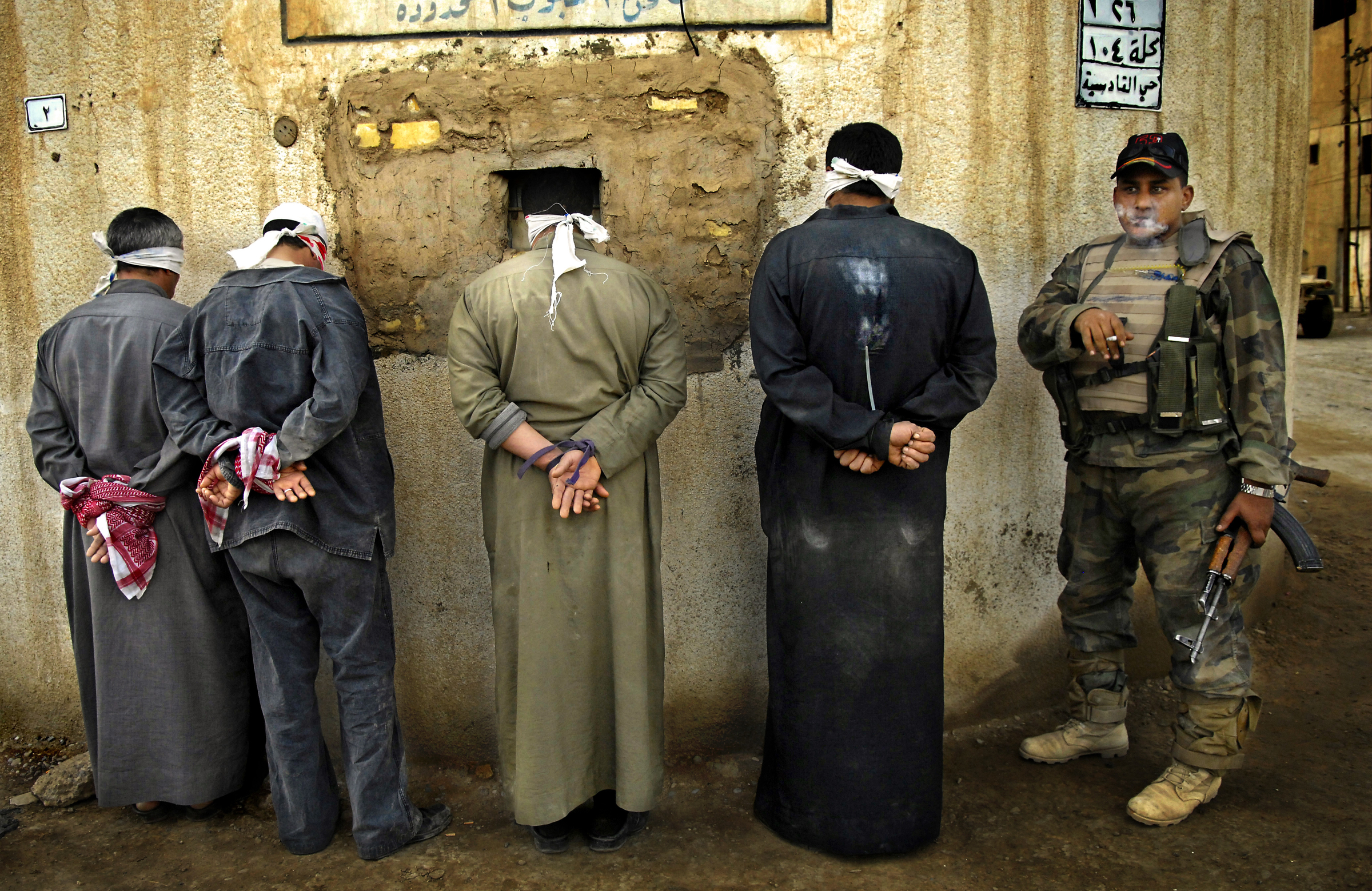 An Iraqi army soldier from the 4th Battalion, 2nd Brigade, 5th Division, provides security for detainees during a three-day operation in Old Baqubah, Iraq. 2007 © Stacy L. Pearsall
U.S. Army Staff Sgt. Branden Embry embraces his battle buddy after a grueling combat operation in Diyala Province, Iraq. 2007 © Stacy L. Pearsall
Before going on patrol, a U.S. Army soldier smokes a cigarette on his cot at a remote combat outpost in Buhriz, Iraq. 2007 © Stacy L. Pearsall
U.S. Army soldier stands guard near a window while his buddy takes a break in front of the television, which is playing Iraqi cartoons, during a raid in Baqubah, Iraq. 2007 © Stacy L. Pearsall
After standing guard during the night, a soldier tries to sleep at an abandoned car dealership in Baghdad, Iraq. 2003 © Stacy L. Pearsall
U.S. Air Force Airmen transfer wounded military personnel from an ambulance to a C-17 Globemaster III aircraft in Baghdad, Iraq. 2003 © Stacy L. Pearsall
An Air Force Security Forces squad clear the stairwell of a training building during a simulated hostage situation in San Antonio, Texas. 2013 © Stacy L. Pearsall
An Air Force Security Forces member tactically moves through the hallway of a dark building during clearing operations training in San Antonio, Texas. 2013 © Stacy L. Pearsall
An Air Force Security Forces K-9 handler, and his military working dog, track an armed assailant into a trailer home and prepare to take the perpetrator down by force during clearing a training operation in San Antonio, Texas. 2013 © Stacy L. Pearsall
John B. Moniz was an Electrician's Mate 1st Class in the Navy during WWII and served aboard the USS Isherwood DD520 from 1943-1945 both in the Atlantic and Pacific Fleet. He's also a kamikaze survivor. 2013 © Stacy L. Pearsall
Pronounced dead, Captain Johnny T. "Tommy" Clack was left among the deceased in Vietnam. It just so happened a surgeon came outside to check the dead. Only God knows why, but the surgeon uncovered Clack's body, saw something that made him believe Clack was still alive, and yelled, "Get this man into the trauma room, now!" Tommy was an Artillery Forward Observer and was struck by an RPG, taking three of his four limbs. "I'm no hero," Tommy said. "And quite honestly I don't know of any, except for the men and women who gave their all. Their names, all 58,267 of them, are on a long, black granite wall in Washington, D.C. Those are my heroes."
Johnny T. "Tommy" Clack served in the Army as an artillery forward observer and served from Jan. 1966 - Sept. 1969. 2014 © Stacy L. Pearsall
Shelee Christine Murray is a Gold Star Wife of Sergeant First Class Dennis Ray Murray, who was killed in action during combat operation in Operation Enduring Freedom.
Dennis R. Murray, 38, of Red Boiling Springs, Tenn., died Nov. 21 in Kandahar province, Afghanistan, of wounds suffered when insurgents attacked his unit with an improvised explosive device. He was assigned to the 2nd Battalion, 34th Armor Regiment, 1st Brigade Combat Team, 1st Infantry Division, Fort Riley, Kansas. SFC Murray is survived by his his wife, Shelee Murray and loving children.
2014 © Stacy L. Pearsall
Jay F. Cabacar achieved the highest enlisted rank in the Army, Sergeant Major. However, making rank was the least of his worries. Cabacar enlisted in March of '62, which landed him squarely in the Vietnam conflict. As a transportation specialist, he saw war up close and personal. In fact, Cabacar was part of the Tet Offensive, one of the largest military campaigns of the Vietnam War. "Being a veteran is the highest honor," Cabacar notes. "It's my tribute to the greatest country in the world. God bless the USA!" 2014 © Stacy L. Pearsall
Henry Boswell is a WWII and Korean War veteran. He successfully completed combat jumps into Sicily, Italy, Normandy and Holland. For his heroism, he received the French Legion of Honor. During the Korean War, he was struck by a mortar round. When he came to, the doctor in the hospital stated, "You're the only soldier with a wound to all FIVE appendages!"
Heary Boswell served as an Army commo sergeant, and later as an officer, from June 1940 to June 1963. 2014 © Stacy L. Pearsall
Army Sergeant Brian Taylor Urruela served as an Infantryman during Operation Iraqi Freedom, during where he lost his leg. He was enlisted from Aug. 2004 to Feb. 2011. He now runs a non-profit organization called VetSports. 2013 © Stacy L. Pearsall
Retired U.S. Army First Sergeant Eugene D. Smith enlisted in 1966 at the height of the Vietnam War. Unlike many who enlisted, or were drafted, during the Vietnam Era, Smith chose to stay in the Army as a Military Police Officer. He rose to the rank of First Sergeant and retired from the Army in 1992. "It was an honor to serve my country," explains Smith, "but I'm retired now and I can relax and do whatever I want." 2014 © Stacy L. Pearsall
Robert B. Smith served as an NM3C radioman in the Navy from 1944 to 1946. He's a WWII veteran and says, "I like my women like I like my racehorses, FAST!" 2013 © Stacy L. Pearsall
U.S. Army First Lieutenant Martin K. Newton began his career as an enlisted combat photographer in 1994, after which time he deployed to Afghanistan and Iraq. After two deployments, he married in 2009 and his daughter, Bella, was born later that year. In light of making the military a lifelong career, Newton finished his degree in 2010, was commission as an officer and deployed once again to Afghanistan. "Serving my country means I'm part of a very small number of people who have chosen to serve their country no matter what the circumstance," explains Newton. 2013 © Stacy L. Pearsall